July 2017
Many thanks to Jill and Norman, and Theresa and David for hosting the Village Walk on Sunday 2nd July, Village Walk. Steve Pedley wrote the following review of the day, and these are Jill's and Steve's photos. Enjoy!
AGRA is exploring ways of bringing our community together. If you would like to suggest, or even host, an event for the Ash Green community, please drop us a mail to let us know and we will do everything we can to support you.
If you have any offers of goods or service which you would like to advertise to local residents, or if you are aware of any events which may be of interest please drop a line to the Ash Green Residents' Association.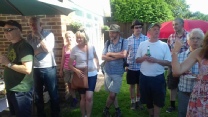 Although I have lived in Ash Green for 26 years I had not been on any of the village walks until this year. I had been aware of the walks, but for reasons that I forget they came and went and I missed the opportunity to participate. This year my circumstances are different. I am now a member of AGRA which brings with it an immediate knowledge of the events taking place in the village, and a more vivid awareness that Ash Green is a village under threat. The walk would take in the landscape around Ash Green, which I felt that I need to record before it eventually disappears underneath a blanket of housing estates. Equally important, I would get the opportunity to meet and talk to other residents of Ash Green.
The walk was held on Sunday 2nd July. Like characters from a LeCarre novel we gathered by the post box and notice board on the junction between South Lane and the Ash Green Lanes. It was hot, and we all sought shelter from the sun under the trees until we felt that sufficient time had elapsed to allow those who like to be fashionably late to appear. Norman Hopkinson had organised the walk and provided the inspirational, welcoming speech and an outline of the route we would be taking.
We set off along Ash Green Lane West towards the disused railway. About half way along the lane we turned south through the metal swing gate to walk across the new area of SANG (Suitable Alternative Natural Greenspace- I had to look it up because I had no idea what SANG was short for). I was excited: this was the first time I had ever set foot in a SANG so I stood for a moment to wait for the epiphany. Sadly nothing, so we pressed on along the rough path through the gap in the grass that had been created by previous walkers. It was then that the epiphany happened. I looked back along the path to the gate. Whoever designed the access to the SANG from Ash Green Lane West had thought carefully about making the site available to disabled people, but evidently lacked the foresight to allow them access beyond a couple of metres into the SANG. It struck me as a metaphor for modern development standards (see the Sunday Times 9th July 2017). My second epiphany – yes, I had many on that day – was that long grass makes for a good source of ticks; I found one on my leg on the Monday after the walk. It was quickly despatched with a dab of RAID on a cotton wool bud, and I now wait patiently for the first symptoms of Lyme Disease.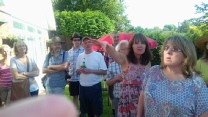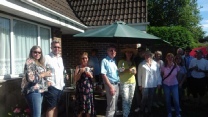 We came out onto the disused railway on the outskirt of Tongham and turned to walk back towards Ash Green. We stopped for a while to cast withering glances and to exchange inappropriate expletives on the edge of the field that is to disappear under 400 or so houses. I may also have stamped my feet in an act of violent defiance at the high-handedness of developers who are destroying our green spaces. A few days later I was told of an interesting rumour relating to a local development. It is alleged that a certain developer has surfaced a road with tarmac that they do not own so they can access a building site. A similar event occurred in Wood Street village where travellers surfaced a road leading to the spot where they had parked their caravans. This caused an outcry amongst the residents of Wood Street, and I cannot see why similar behaviour by developers should not cause an outcry in Ash and Tongham.
We left the railway at Drovers Way and stopped for a team photograph. We had made it this far without casualties so a team photograph was an apt celebration of our resilience. For a while we walked along the roads: Ash Green Road; Harpers Road; Pound Farm Lane. The latter is much more conducive to conversation than the former where the fear of speeding cars forced us to walk in single file. I have always admired the house at Pound Farm, which gracefully dominates the surrounding area. But I must admit a slightly greater admiration for the barns and courtyard next to Pound Farm. They exude such a strong sense of the Mediterranean I can almost smell the warm seas every time I pass. I take my hat off to the designer and builder.
From Pound Farm we followed the Christmas Pie trail to Ash Green Lane East and back to our starting point. Thirsty, tired and hungry from our expedition we stumbled into the garden of Teresa and David Pearson who had laid on a mouth-watering spread of cakes, tea, coffee, Pimm's and beer. If anyone has read or watched the Lord of the Rings, think about the time Frodo and his friends are brought to Rivendell by the High Elves: Teresa and David's was the Ash Green equivalent. It was a great end to a very social afternoon. Carol and I left after about an hour. We had burnt off about 300 calories on the walk and topped it up with about 1000 calories in scones and cake. Chubbier and happier we wandered home.
I do need to thank everyone who worked hard to make the walk so enjoyable. Norman did a wonderful job in hosting the walk and setting the route. Teresa and David Pearson and Jill Hopkinson for hosting the "after party" and baking most of the cakes, brewing the teas, mixing the Pimm's and serving the beers. I must also thank the other residents of Ash Green who supplied cakes. The catering equipment was kindly donated by the Tongham Scouts. Finally, a big thank you to Mr Tim Hunt who made a generous donation to sponsor the walk.
Until the next time. Autumn?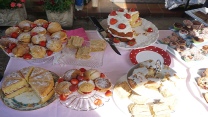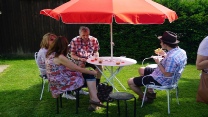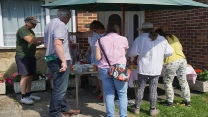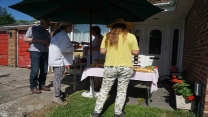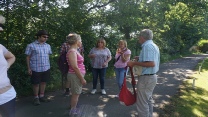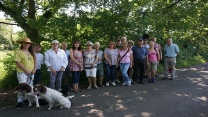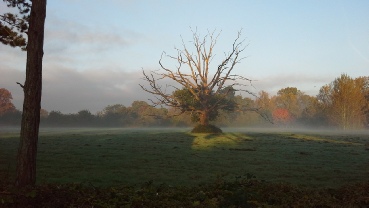 Ash Green Residents' Association